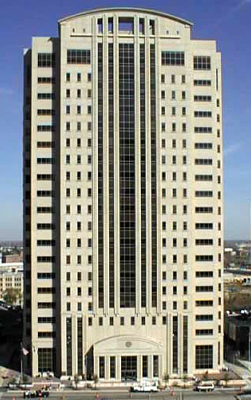 About Judge Fleming
Judge Natalie C. Fleming is the presiding judge of Harris County Criminal Court at Law #3. Judge Fleming was recently voted by her peers, to be the Presiding Judge over the sixteen County Criminal Courts at Law.

Judge Fleming is a first generation Hispanic American born and raised in Houston. She is a graduate of St. Agnes Academy and received her undergraduate degree from the University of St. Thomas. She then went on and earned her law degree from South Texas College of Law in 1988.

Upon becoming licensed to practice law in 1989, Judge Fleming started her legal career working for Harris County District Attorney, John B. Holmes, Jr. as a prosecutor. As an Assistant District Attorney, Judge Fleming obtained experience in many areas, including felony, misdemeanor, and death row penalty appeals.

After over 5 years, she resigned as a prosecutor to stay home with her children and work part time as a visiting judge throughout the then 15 County Criminal Courts. She continued this practice for 15 years. Also during this time, Judge Fleming gained experience as being an Ad Litem attorney in representing the interest of children throughout the several County Civil Courts.

In 2010, Judge Fleming was appointed by unanimous vote by the Harris County Commissioners' Court as Judge of Harris County Criminal Court at Law #3. She was then subsequently elected two times to that position.

Because Judge Fleming is fluent in Spanish, since 2010, she has volunteered tireless hours as the first Judge in Harris County to preside over a Spanish-speaking SOBER Court. The Harris County SOBER Court program helps rehabilitate intoxicated driving offenders to prevent recidivism. Judge Fleming has devoted herself, through this program to improve public safety for the citizens of Harris County.

Judge Fleming has been active in various charitable activities in her community, and has been recognized by a number of these. She and her husband of almost 30 years, Michael P. Fleming are the proud parents of six children.

Court Directory

Judge Paula Goodhart, Court 1

Judge Bill Harmon, Court 2

Judge Natalie C. Fleming, Court 3

Judge John Clinton, Court 4

Judge Margaret Harris, Court 5

Judge Larry Standley, Court 6

Judge Pam Derbyshire, Court 7

Judge Jay Karahan, Court 8

Judge Analia Wilkerson, Court 9

Judge Sherman Ross, Court 10

Judge Diane Bull, Court 11

Judge Robin Brown, Court 12

Judge Don Smyth, Court 13

Judge Mike Fields, Court 14

Judge Jean Spradling, Court 15

Judge Darrell Jordan, Court 16

Harris County Courts Homepage

Harris County Homepage